[NOTE: Links to other March of the Ponies stories will go here as they are published.
Part 1 - Abridged MLP history
,
Part 2 - Review of Lauren Faust's prior works
, Part 3 - MLP Comics (Micro-series of
Twilight
, Rainbow Dash, Rarity, Fluttershy, Pinkie Pie, Applejack, CMCs/Celestia, Spike/Luna; Nightmare Rarity arc (main series)), Part 5 - Fan-made episodes (
Dusk's Dawn
, Double Rainboom, Snowdrop),
Part 6 - Fan works (
Music
,Doctor Whooves, Parody/Abridged Series, Fanfictions),
Part 7 - Season Reviews:
Season 1
, Season 2, Season 3, Magical Mystery Cure, Season 4 (to date)
]
So... is anyone else shocked that there were people credited with editing this thing?
Equestria Girls is a 70-plus-minute movie about Twilight Sparkle (in princess form) being sent to an alternate dimension where all her friends are human (and apparently are missing part of the logic centers of their brains, but we'll get to that).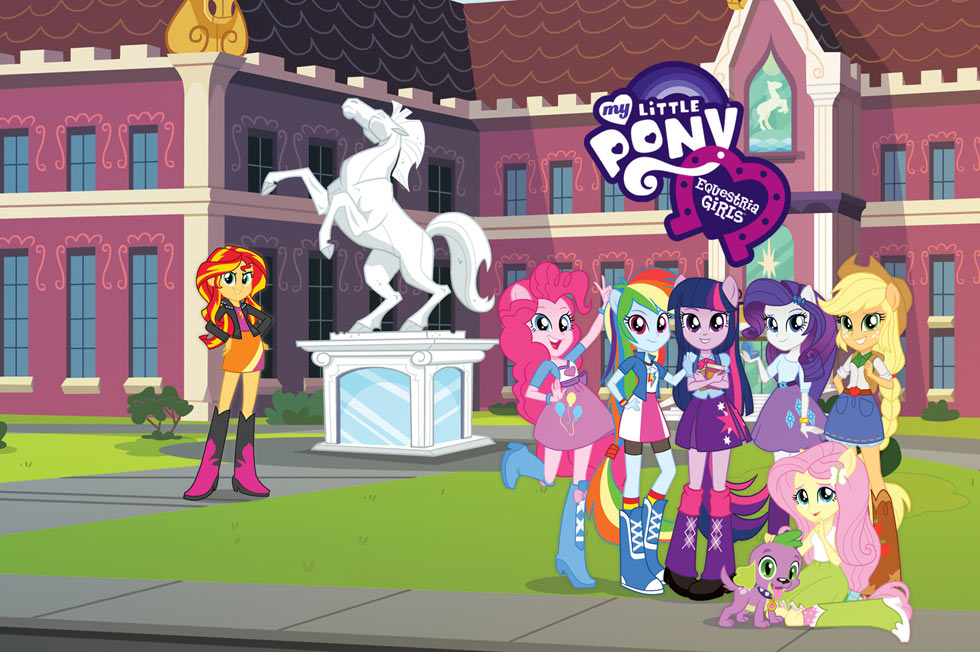 Combined IQ of everyone in this photo: 200 (100 of it Spike's)
A lot of people have used the term 'popcorn movie' to describe this in that you have to shut off your brain and just let the world take you for a ride. I have a different term: Idiot plot.
For those who don't know, idiot plots (AKA: stories whose plots only work if a character is behaving illogically to the point that it's out of character for them) are my single greatest pet peeve in writing. It's a tool of laziness used because the writer didn't want to put thought into why a plot element is happening.
I go into this movie in tremendous audio detail above (and at about the 53-minute mark give my suggestions as to how to make the high school format work in this movie), but my biggest complaints were that, 1) the human versions of the Mane 6-minus-Twilight are caricatures of their pony counterparts, reaching Friendship is Witchcraft levels of idiotic, 2) Twilight herself drops a bunch of IQ points, missing obvious solutions and getting rewarded for making near-catastrophic decisions, 3) Twilight makes near-catastrophic decisions that only don't ruin everything because of sheer luck, and 4) Sunset Shimmer's 'plan' was really, really, really stupid.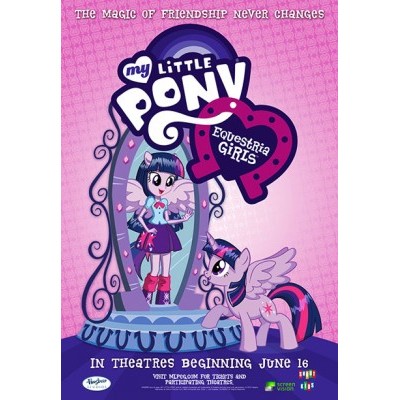 I don't like saying that a whole story comes apart because of stupid plot decisions - especially when the animation and voice acting were at their A-game - but when stupidity becomes so prominent that half your viewing experience is spent asking WHY something is happening, you can't enjoy the narrative because you're constantly stepping out of it to armchair quarterback.
The pilot episodes of this series, even with the rushed pace of the second episode, enthrall you in the narrative that you don't notice the more problematic writing flaws until the story has resolved itself. I couldn't stop asking questions about what was happening in this story long enough to get a feeling for the story.
This movie was so filled with Easter eggs that I can only assume that they were planted there so that the adult fan base wouldn't notice that they were watching a nonsensical story that (THANKFULLY) has not been explicitly used in an episode to make it undeniably canon.
I think the fact that they've kept any EG characters to non-speaking Easter egg roles themselves is an indication that Meghan McCarthy herself knows that this story isn't worth using in any canon work. I'm convinced the staff turned in their first draft of the story with no desire to edit it, and I'd be shocked to hear it was even proofread by her fellow staffers.
The sad thing is, this was a golden opportunity to create a teen girl high school movie that bucked the normal tropes. Had the Mane 6 all gone to the high school and encountered the clique-based nature of the school, there could have been an interesting plot where Sunset tried to perpetuate the status quo vs. the Mane 6's friendship and unity.
Sunset could have been a more mastermind villain who ruled from the back and the crown's location could have been left a mystery until the third act. There would still be hiccups to work around, but there would have been a greater message to the film than the flawed, contradicted message that actually was used.
As I said, my audio review is far better as it addresses specific examples, but I think I've made my point here in text as well. Despite strong animation and voice acting, the music was under par, the message contradicted the story being told and there were no attempts from the script to make any sense whatsoever.
To give this an overall rating, I'm giving Equestria Girls and
4.5/10, or 2 stars out of 4.
There's enough good here that people could watch it and make their own judgements, but I don't think anyone can call it objectively 'good' and I feel like, once the initial surprise humor subsides, subsequent viewings would have diminishing returns in terms of entertainment value.
Next for the March of the Ponies, I will weigh the positives and negatives of the three most famous fan-made episodes. First up will be the original: Dusk's Dawn!
Follow me on
Twitter
and
Facebook
.