There is a joke Stephen Colbert uses where he shows all the US presidential candidates piled up in a ridiculous display that eats up about three-quarters of the page. Then he'll bring up Donald Trump and Trump will absorb the space all the other candidates had taken up.
Yeah, there it is.
Anyway, that's kind of how the UFC is dealing with their new World Featherweight Champion, Conor McGregor. Ever since he defeated the top pound-for-pound fighter in a fight so short it could fit on Instagram, McGregor has been the talk of the town.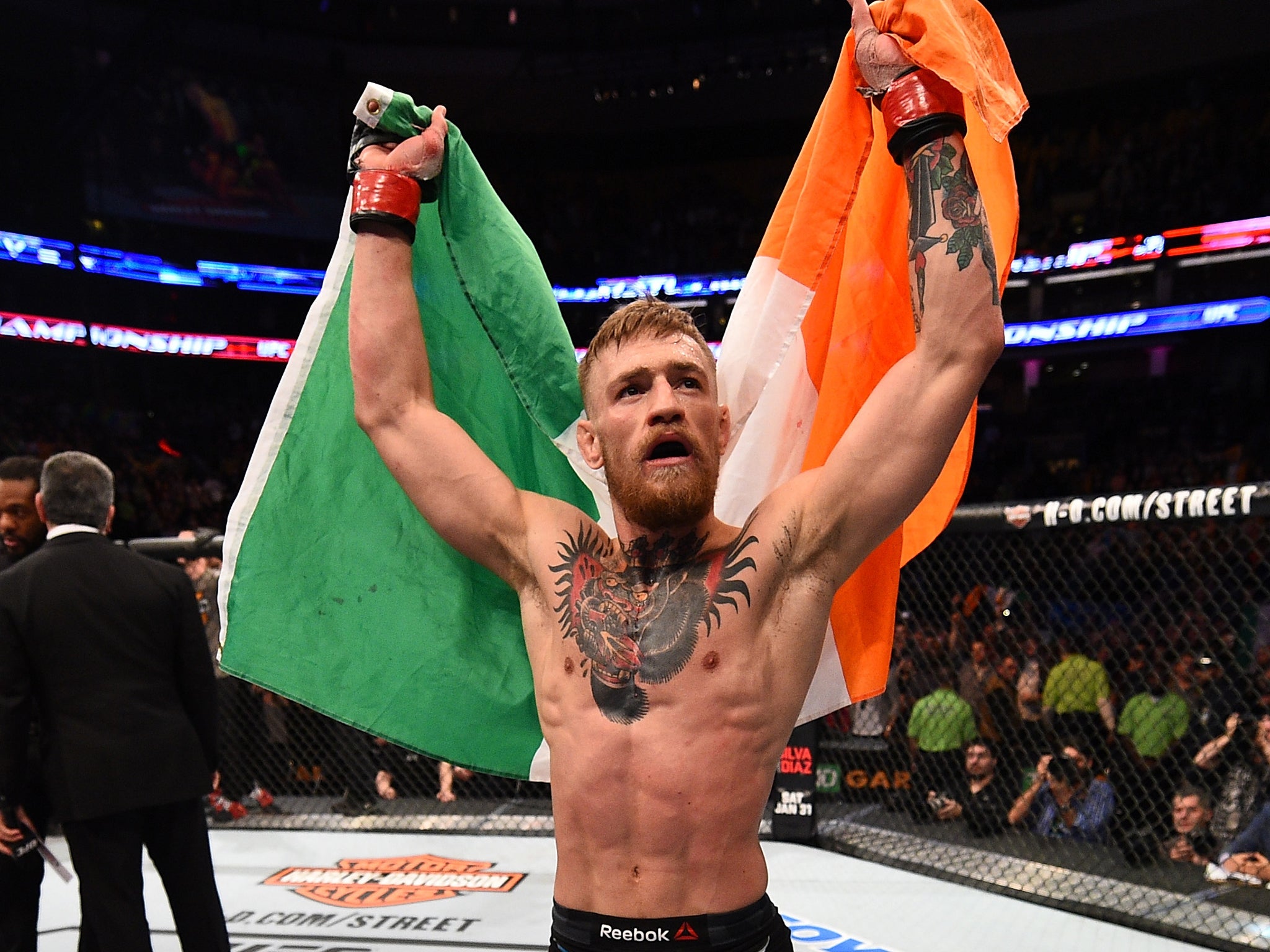 It's now to the point that he's the most important conversation piece at the UFC World Lightweight Championship fight tonight.
McGregor
has claimed
that he will be moving soon to the 155-pound weight limit to chase a second title. There has been talk that his corner would really rather he not make the cut down to 145 anymore.
This may not be true anymore, though, as McGregor has an obvious No. 1 challenger for the belt he actually holds. Frankie Edgar, a former lightweight champion in his own right, is looking for to be a multi-division champion too, and he made his case for a match with a first-round KO win over Chad Mendes last week.
There is talk
that McGregor would jump up a weight class, then move back down to fight Edgar at UFC 200, but that may not be likely when held up to scrutiny. This would require McGregor to cut to 155 around March, then conduct an additional weight cut - 10 pounds more this time - in July.
It may just be my own opinion, but when McGregor does choose to become a lightweight, if he succeeds, that's it for him at featherweight. And that is a shame because there are so many fights at featherweight worth making first.
A rematch with Aldo is there. Urijah Faber is ready, willing and able to jump back up to 145 for a fight. Dominick Cruz has probably stuck at bantamweight for far too long now...
And most of this blog is talking about McGregor instead of the fight that's actually happening tonight, isn't it?
See, this is exactly the point! And it's a shame because the fight between champion Rafael dos Anjos and challenger Donald Cerrone has all the makings of an absolute classic.
Cerrone is the fighter known for taking on all comers, whether he gets a full camp or not. He's been on an absolute tear in recent months (years, technically) and is riding an eight-fight win streak dating back to 2013.
The man who beat him, though, is Rafael dos Anjos.
It's kind of a unique situation where dos Anjos has beaten his challenger before, won a championship, and yet still has more losses in the last two years. (Cerrone has been 8-0 while dos Anjos is 4-1 with a loss to No. 2 contender Khabib Nurmagomedov.)
As for how the match-up shakes out, it's clear that while dos Anjos is an excellent striker, boasting a high rank in Muay Thai, he's outclassed by Cerrone's boxing and kickboxing background. A stand-up fight will almost definitely go Cerrone's way.
It will come down to ground game if the champion wants to win. Though he hasn't won by submission in a few years, dos Anjos has a 3rd-degree black belt in Brazilian jiu-jitsu. Cerrone isn't any slouch on the ground thanks to Greg Jackson's training, but those are chops he's years from earning himself.
Looking at the fight as a whole, my guess is that the fight stays standing more than it's on the ground. Cerrone has good takedown defense and should be able to free himself without relying on the referee to stand the fighters back up.
I will say
Cerrone takes the decision
in this fight and moves on to face Nurmagomedov. Or Pettis. Or...
Dang it, McGregor!
Oh right, there are other fights on this card!
Heavyweight Bout: Junior Dos Santos v. Alistair Overeem -
This may be a final gasp for the title aspirations of 'The Reem.' These gasps will go unanswered. JDS by KO in Round 2.
Lightweight Bout: Michael Johnson v. Nate Diaz -
The Diaz brothers are never going away, are they? Well, at least Johnson is more than a match for the little Diaz. Johnson by decision.
Strawweight Bout: Randa Markos v. Karolina Kowalkiewicz -
What is with all the Eastern Bloc fighters in the strawweight divison. You may remember Randa Markos as that woman who annoyed the crap out of EVERYONE in the TUF 20 house. Kowalkiewicz is undefeated, but I'll take the experience of the Iraqi-Canadian "Quiet Storm." Markos by decision.