My top matches of March blog is due up, seeing as I'm typing this on the last day of March. I am, however, reserving judgment on the rankings because of this show. There seems like there might be a contender on the card, so let's find out!
Before I do, though, I wanted to give credit to a match on the Tuesday card: Barbaro Cavernario vs. Soberano Jr. in a non-title bout. This blew of a feud that went a couple weeks over there apparently, but I was interested mainly because of the two involved in the match. I'll discuss it in the matches of the month almost definitely, but needless to say, check it out.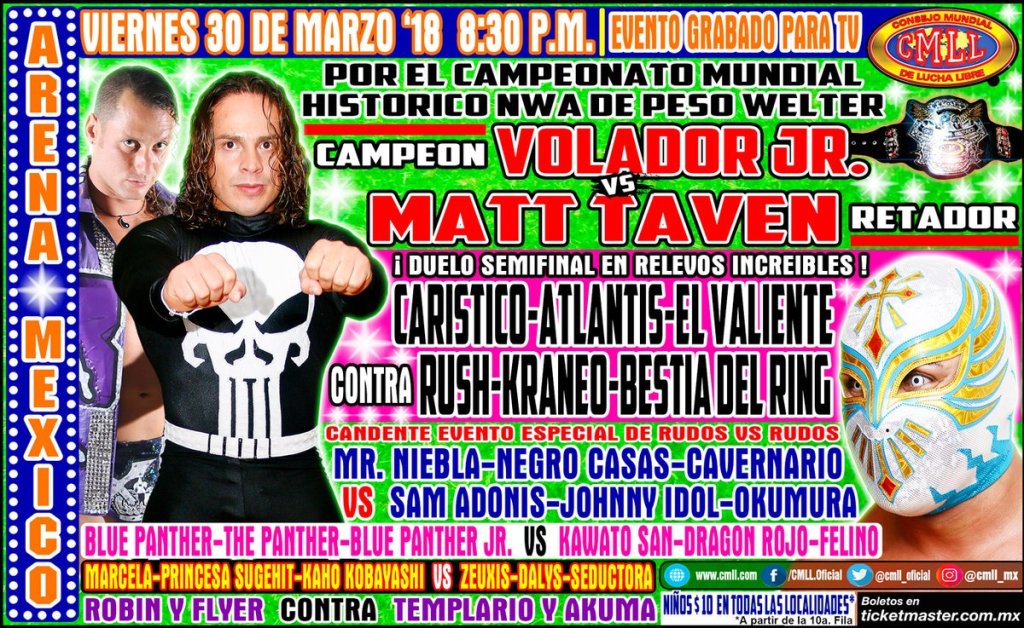 Opening Match: Flyer and Robin vs. Templario and Akuma
Always happy to see Flyer and Templario in matches. I don't think I've seen the other two. If I have, they left no impression. Robin's actually got a decent set of high-flying moves, though he's still trying to get speed into all of his moves. The first fall happens fairly quickly, with Akuma and Templario both hitting dives from the ramp into the ring to take out Flyer, while Robin was taken out with a top-rope splash from Akuma.
Akuma was almost immediately a non-factor in the second fall, though. Flyer went off the second rope and hit him with a knee to get him out of the equation. Templario then got a good heat segment where he actually managed some offense. It's actually somewhat rare for anyone to get offense once outnumbered, especially in an early fall, so good for Templario that they trusted him with that. He eventually fell to a rana to even the fall count 1-1.
CMLL's mandate against top-rope moves in the opener led to some attempts to play with moves off the second rope. Some were awkward, but I was actually impressed with the ideas. Robin and Akuma were both on the second rope when Robin jumped up and hit a rana to eliminate him again. Templario immediately countered with a powerbomb to eliminate Robin. It then took two Canadian Destroyers, the second one using the low rope as a launchpad for speed, for Flyer to take out Templario. Really fun match that showcased Templario as a real up-and-coming rudo. Flyer looked great as well, and I'm hoping this creates a singles match down the road.
3 stars.
Second Match: Kaho Kobayashi, Marcela, Princesa Sugehit vs. La Seductora, Zeuxis, Dallys
This is yet another rematch. I know there are other women on this roster, some significantly more talented than Seductora. And I know it's possible to book a large women's division well, so what the heck are we doing here? Oh, as an aside, Zeuxis is now a champion in Puerto Rico, so she has two titles.
So watching the first fall, Seductora is capable of working and taking bumps, but they are way too slow to be believable. She could be a solid ground-exclusive wrestler if the matches were booked around it. Also, there is a fine line between arrogantly leaving a limb open to counter, and blatantly placing it and waiting for a counter. Dallys should work on that. Anyway, Seductora tapped out Kaho with a Disarmer, and Dallys pinned Marcela for fall 1.
In the second fall, following some of the worst ground stomps in the history of televised ground stomps, Kaho got caught outside the ring trying to hit a top-rope plancha, and got slammed into the guard rail. Marcela then took out Zeuxis and Dallys with a plancha of her own. Sugehit nearly rolled up Seductora, but Seductora wrapped her arm into the bottom rope to hold her down for a captain's fall and a 2-0 win. The técnicos were livid after this, but at least it seems like they had an idea for an angle. Hopefully, this goes somewhere.
1.75 stars.
Third Match: Blue Panther family (Blue Panthers Sr and Jr, and The Panther) vs. Kuwato San, Dragon Rojo, Felino
Pretty hyped for this one. I love the whole Panther family, Kuwato San has looked good since coming over from NJPW on excursion, and Dragon Rojo's entrance has more pyro than literally all of Raw and SmackDown in 2018 to date. Not sure if I've seen Felino. The go-go dancers that perplexingly get all the camera time during the special ring intros are dressed like cowgirls for some reason.
Kuwato seemed to tease rudo interference a couple times that Blue Sr. caught, but he eventually went for it. The Panther saw him and started a sequence of lucha tags, and the chaos led to The Panther faking a dropkick and turning it into a roll-up for the captain's fall. 1-0 faces. Blue Panther Sr. did the bulk of the work here, and though his work is clearly slower, he has clearly mastered the ring enough to still maintain believability. He's a great hand to help dictate this match.
Blue Sr. and Blue Jr. got taken out of the equation early in the fall, allowing a 3-on-1 on The Panther. The Panther had a nice leapfrog over Dragon Rojo, but it only led him into a splash from Felino. Rojo then made him tap to the disarmer. Blue Jr. ran in next, but the 3-on-1 continued, and Kuwato hit a top rope splash for the pin. 1-1.
Rojo clawed at the masks of both The Panther and Blue Jr., leading to them double-teaming on his mask while Blue Sr. intimidated the ref. A lot of good combo moves from the brothers before the rudos started hitting top-rope dives to the outside of the ring. Eventually, Blue Jr. got rolled up by Rojo, while Kuwato got rolled up by The Panther. The two then took their fight outside the ring while Felino scored the captain's fall on Blue Sr. with a modified leg lock. Great third fall, though I wonder when they will pull the trigger on pushing the younger panthers. They look like they are due to move into the upper half of the card.
3.5 stars.
Fourth Match: Mr. Niebla, Negro Casas, Barbaro Cavernario v. The Axis (Johnny Idol, Sam Adonis, Okumura)
Rudos vs. Rudos here, so I'm thinking The Axis will act as the heat generators. Oh, and Tirantes is reffing. That almost seems perfect.
This became a brawl almost immediately that covered most of the area around the ring. A glitch jumped time forward on the stream, so I didn't see the second fall during the match. Luckily, I got it on replay. Okumura hit a slam on Cavernario, then Idol hit a drop kick on Niebla to take the first fall.
Niebla took most of the beating in the second fall, but he was able to break free and hit a dive outside the ring on Adonis to take him out of the equation. This allowed Cavernario and Casas to hit simultaneous roll-ups on the Axis to even the match at 1-1.
The third fall was heavy on spectacle, mostly involving spit. It was kind of hard to sit through. Eventually, though, they got back to actual wrestling and had a decent finish. Cavernario dropkicked Idol to pin him, while Niebla hit a splash on Okumura to complete the match. Good for Cavernario picking up a win, but the third fall kind of lost me.
2.5 stars.
Semi-main event: Revelos Increibles - Caristico, Atlantis, El Valiente vs. Rush, Kraneo, La Bestia del Ring
Revelos Increibles are supposed to have teams with members that are either A) feuding or B) on opposite sides of face-heel alignment. I have no idea which this is. I guess if you count Caristico as a rudo completely, and the weird técnico turn for Kraneo in Puebla extends here, it technically works...
I think CMLL has gotten wise to Atlantis' limitations as a performer right now, so he basically got mugged early in this match so he's not expected to hit a lot of offense the rest of the way. The ref got tossed out of the ring, leading to a DQ of the Los Ingobernables team. 1-0 Team Atlantis.
The second fall felt dominant, with Atlantis getting tossed outside the ring and Caristico getting hit with a piledriver to take the second fall. 1-1.
The final fall started slow, but Valiente hit some big power moves on Kraneo, and Caristico got a few big dives on Rush to get the final push to the finish going. I expected the pace to crack when Atlantis and Bestia went with each other, but they held up ok, and at the end, Atlantis tricked Los Ingobernables into attacking Kraneo. This, of course, led to him getting revenge on his teammates and leaving them for the loss. It was an interesting angle to play, and I'm curious if this develops into anything. At the very least, they told a good story.
3 stars.
Main event: NWA Historic Welterweight Championship: Volador Jr. (c) w/ Flyer vs. Matt Taven w/ Sam Adonis
Volador, accoding to Cubsfan, is defending this belt for the 20th time in this reign. Taven is normally a Ring of Honor wrestler, who leads the Kingdom faction.
The Code of Honor is followed to start the match. There was a lot of posturing and taunting to start, much of which involved Adonis' Trump flag. Taven went for a clothesline, and it was countered into a superkick, then a backstabber, then a pin. 1-0 Volador.
The second fall started with Volador continuing the momentum, sending Taven out of the ring before diving and hitting him. En route to finishing him, though, Taven was able to counter, hit a big kick to Volador, then finished with a frog splash to even the falls at 1-1.
The third fall had good energy, but it never seemed to kick into fourth gear. Tirantes went full rudo with his counts toward the end, leading to Taven winning the title.
I have two major thoughts on this title change. One, this is the same Matt Taven I saw in Vegas a month ago having an average match with Cody, so while this is great for the Kingdom, I'm curious how good of matches he is capable of producing. Second, since the NWA is still a thing in the US, how will this title be promoted? Will it adopt CMLL's name? Will it be put in a merger match the CMLL welterweight belt? Can they say the title's name in RoH? Many logistical thoughts must be considered.
Anyway, the match was an acceptable 3.25 stars, and the show, while lacking a must-see match, had plenty of interesting angles worth following up on. Hopefully CMLL does so.